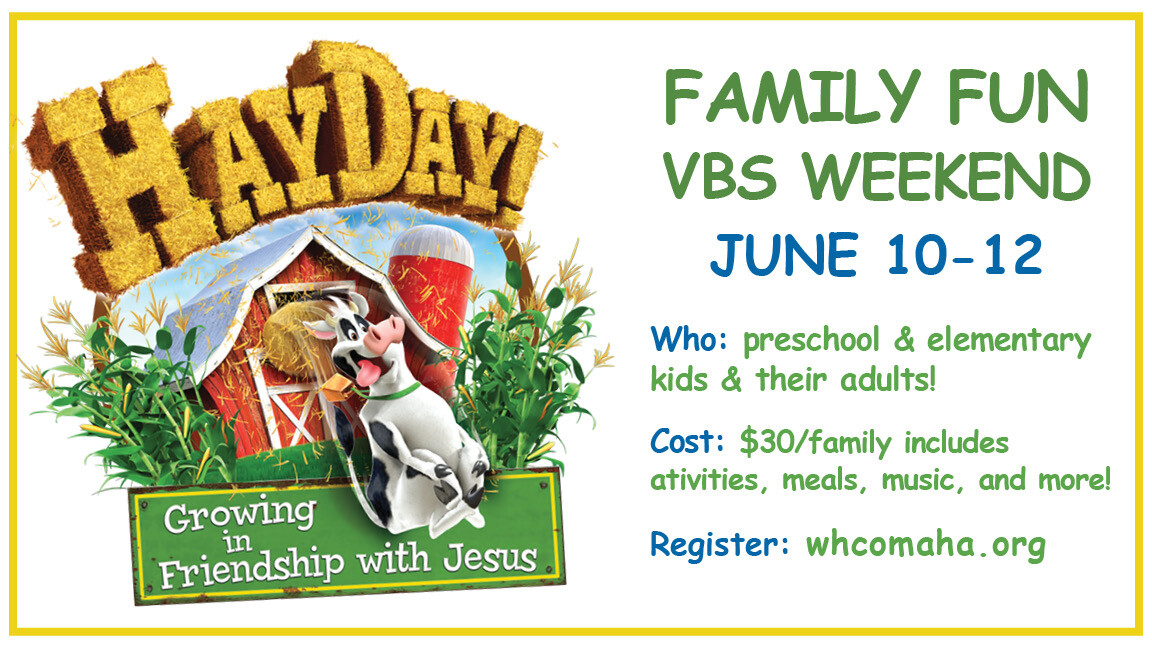 Daily, from 06/10/2022 to 06/12/2022
,
12:00 AM
Location: West Hills Church, 3015 S 82nd Ave, Omaha, NE US 68124
Cost: $30.00
Get ready for acres of fun!
At West Hills HayDay VBS, kids and their adults grow in friendship with Jesus and with one another. This VBS is filled with incredible Bible-learning experiences to see, hear, touch, and act out. Team-building games, cool Bible songs, and multi-sensory Bible adventures are just a few of the activities that help faith flow into real life. (Since everything is hands-on, you might get a little messy. Be sure everyone wears clothes and safe shoes for the fun).
You and your kids will also participate in an outreach project called Projects-With-a-Purpose, that will let our community show Jesus' love to others.
We'll wrap up our weekend of fun with a Sunday Celebration on June 12 for a celebration of Jesus' love you won't want to miss!
So mark these dates on your calendar:
Friday, June 10 - 5:30 pm - 8:30 pm (includes dinner)
Saturday, June 11 – 9:00 am - 12:00 pm (starting with doughnuts, juice, and coffee)
Sunday, June 12 – 9:00 am - 12:00 pm (includes lunch)
Who: Preschool and elementary kids and their adults. This is a family-fun-style VBS, so bring all the farmhands!
Cost: $30/family includes activities, meals, music, and more! (scholarships available, contact Jessica at )
Sign up now for a fun weekend of life-changing memory-makers with the kids in your life!