Back to Staff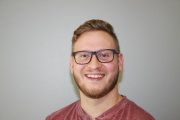 Luke Burns
Youth & Young Adult Coordinator
office: 402-391-8662 x1017
Employed at West Hills since...
2016
Family
I am an only child so my family is very small, but my grandma, uncle, aunt, and cousin all live in Omaha so we have been known to have a few big parties and fun family dinners.
Best thing about your job
My favorite thing about my job is getting the chance to have a great time with the students and showing them that living the Christian lifestyle is not only fun, but actually the most fulfilling way to live.
Favorites
SCRIPTURE: Ephesians 2:8-9
SONG: Send Me by Lecrae
MOVIE: Courageous
BOOK: The Da Vinci Code by Dan Brown
SNACK: ice cream
Something that gets on your nerves
One thing that drives me crazy is not being able to find what I am looking for at a grocery store.
Some hobbies/passions
Playing guitar, watching basketball, and reading & writing
Something people may not know about you
When I first started college I thought I wanted to start my own Christian record label and produce great Christian music. Found out I have a much greater passion for ministry than for business.
Your happy place: going to the lake to fish