Back to Staff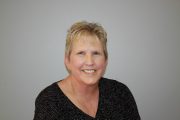 Julie Zimmerman
Elder for Youth & Young Adult
At West Hills since...
West Hills has been our church home since 1998.
My family
My family includes my husband Mark to whom I have been married for 26 years. We have 4 children: Trent 20, Reid 18, Spencer 18 (yes twins), and Rylee 16.
Areas of involvement at West Hills
I have been involved in a number of ministry areas at West Hills over the last 20 years. Having worked as a teacher, counselor and administrator for the Omaha Public Schools, I have found many opportunities to work with children and youth at West Hills: Nursery, Children's Sunday School, Youth Sunday School, Youth Camp and Vacation Bible School.
What you like most about West Hills
I love that West Hills is on a Journey with the Living Christ. I am pleased about the Bible focus for the church. I have been part of the Women's Bible Study for a number o years and have helped lead the study on several occasions. It is very important to me that I am reading God's Word regularly. Bible Study is a great opportunity to join with other women who want the same thing. I also love the opportunities for Mission involvement at West Hills. One of my favorite Bible verses is: "Jesus said, Peace be with you! As the Father has sent me, I am sending you." John 20:21. Each time I leave West Hills, I see this verse above the doorway on my way out of the building. It is a wonderful reminder that we are sent into mission each and every day. Opportunities for mission are everywhere in our daily lives.
My favorites
I love the verse: Start children off on the way they should go, and even when they are old, they will not turn from it. Proverbs 22:6. To me this highlights how important the south and children of our church are. Walking beside our youth on their faith journey is an absolute privilege for me.
Hobbies/passions
One of my other favorite things in my love of animals. I am an avid wild bird watcher. We invite birds to our back yard with feeders and bird baths. There is nothing I like more than sitting on our patio and watching them fly in and eat. I also have a wonderful dog who loves going for walks. Most days we head out around our neighborhood or in on of the nearby parks.