Back to Staff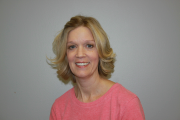 Kim Sedivy
Assistant to Children's & Youth Ministries
Employed at West Hills since...
2016
Family
My husband, Terry, and I have been married since 1998. Our daughter, Sarah, is 13 and Ben is 10. We have a guinea pig named Leo. We went to the pet store to buy food for Leo and came out with a bunny (I kinda lost control of that situation!) Sweetie is part of our family now, too.
Best thing about your job
Working with really nice people and getting to use my graphic design skills.
Favorites
SCRIPTURE: Jeremiah 29:11
SONG: I Will Follow by Chris Tomlin (and most everything from the '80's!)
MOVIE: Back to the Future
BOOK: The Hunger Games
SNACK: Cheetos and dark chocolate (not together!)
Something that gets on your nerves
When I call customer service and I get a long recording instead of a person! How do I always seem to time my call when they are experiencing a HIGHER THAN NORMAL call volume? I was on hold the other day for 52 minutes! Also, when the people on the show I'm watching don't take my advice! I don't think you should make that deal on Shark Tank! That's a mistake!
Some hobbies/passions
reading, traveling, shopping, watching HGTV
Something people may not know about you
This is more of a strange/interesting tidbit: I am double-jointed in my fingers. At least I think I am because I can bend them in really weird - my kids say CREEPY - ways!
Your happy place
the beach