Join A Group, Bible Study Or Book Study
---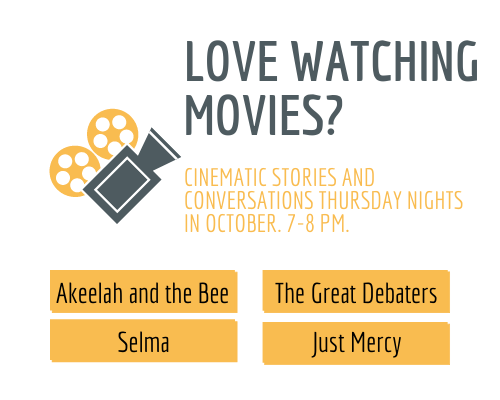 The Racial Justice and Reconciliation Team is hosting cinematic stories and discussion Thursdays throughout October. We hope you'll consider joining us. Register here or by calling the church office at 402-391-8788.
How it will work: You will watch the movie at your convenience prior to the meeting. As you watch the movie, keep an eye out for biblical themes of justice and reconciliation found in the film. Next, we'll meet on Zoom, the date shown below, to discuss and share thoughts from the movie.
Discussion schedule:
October 8: Akeelah and the Bee
October 15: Selma
October 22: The Great Debaters
October 29: Just Mercy
---
Kids Connect Small Groups
Every Sunday, from 09/20/2020 to 11/15/2020,
6:30 PM - 7:00 PM
We will be offering small group experiences this school year led by teens and adults who are excited to help kids in preschool-6th grade connect with God, each other, and the world through activities, a short lesson, and a time to have fellowship and pray together. Small groups will meet for 30 minutes once a week. We have found small groups of this style and length to be a highlight for kids in this age group and hope you will also find it to be a blessing for your child(ren) and family!
---
Women's Bible Study - Defiant Joy
Every Wednesday,
9:15 AM - 11:15 AM
Joy is closer than you think because God is better than you may believe!
Using humor, wit, and wisdom, author Candace Payne (aka "Chewbacca Mom") reveals biblical insights to unshakable joy and freedom in every circumstance. Dispel the myths that joy is frivolous, immature, or reserved for a few select "happy" people, and open your heart to receive the freedom and joy God created you to live in.
"I have told you this so that my joy may be in you and that your joy may be complete" (John 15:11).
In this six-session video Bible study, learn what it is to live a life expressed by joy!
This study guide challenges groups to get honest and real in their discussion time and to explore the truth in what Scripture says about joy. It also includes a personal "Joy Lab" that makes homework a new daily practice in the art of encountering the abundance God intends for each of us when we know joy.
There will be a social get together on Wed. Sept. 9 with the study beginning on Sept. 16.
Tracy Enholm and Jane Loeck facilitate this study. All ladies are welcome! If you'd like to join this study, please let Jane know by sending an email to: