Back to Staff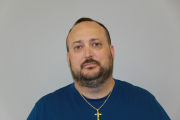 John Good
Facility Coordinator
office: 402-391-8662 x1033
No one understands servanthood better than John! He oversees keeping West Hills in tip-top shape and is willing to do any work the Lord puts in front of him. John heads up a wonderful team of property staff and volunteers who keep our building functioning beautifully!
Employed at West Hills since...
2000
Family
One very amazing son, John Good Jr.
Best thing about your job
I come to work and get to help people and as a nice plus, I get paid to do so.
Favorites
SCRIPTURE: John 3:16

SONG: My Way by Elvis Presley

MOVIE: It's a Wonderful Life

BOOK: Daddy Promises (also my son's favorite)

SNACK: anything and everything
Something that gets on your nerves
When you pick the farthest parking stall and nobody is even close with a thousand other parking stalls - and someone parks right next to you!!!
Some hobbies/passions
my bike
Something people may not know about you
I never attended church until West Hills
Your happy place
On my bike, driving fast with the radio LOUD