Back to Staff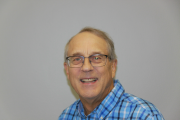 Don Glasgow
Elder for Building and Grounds
At West Hills since...
1997
My family
Candy and I have been married 47 years. We have one son, Miles, who lives and works in Omaha for Regent 6. I am a retired science teacher from Westside Community Schools but I still substitute in science at the high school a little.
Areas of involvement at West Hills
Usher for worship services, involved in men's ministry, I have belonged to a covenant group since 1997, have participated in Wednesday night activities, Servant Sunday leader since it's conception around 2000, mission leader to Crow Agency Indian Reservation twice, and currently help teachers at the Omaha Street School.
What you like most about West Hills
Relationship building from covenant group or other West Hills activities.
My favorites
SCRIPTURE: Philippians 4:4-8.
SONG: Good, Good Father by Chris Tomlin, Give Me Your Eyes by Brandon Heath.
BOOK: Bible The Shack.
MOVIE: Sound of Music.
SNACK: Ice Cream.
Hobbies/passions
HOBBIES: Walking at recreational lakes around Omaha, hiking in Colorado, Bird counting for Cornel Labs and Blue Birds Across Nebraska, Golf, and Bicycling. PASSIONS: Encouraging students at the Omaha Street School, traveling abroad with my wife.