Back to Staff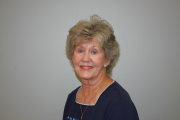 Gloria Zinn
Stephen Ministry
At West Hills since...
I have been going to West Hills (when I was late for my home church, Central Presbyterian at 55th and Leavenworth) since we moved into West Gate in 1970. I started going to west Hills full time in the late 90's and don't know the year I had them transfer my membership from Central Presbyterian to West Hills.
My family
I have three grown children and 10 grandchildren and 1 great grandson
Areas of involvement at West Hills
I make casseroles for Foster Care group, have taught the Thursday AM Bible Study, and now facilitate the study since we are using the Serendipity format; I started a Bible Study at West Gate Assisted living, am a volunteer for Westgate School, and serve 9this year) as a Deacon with Stephan Ministry, and have also facilitated a connection group.
What you like most about West Hills
I have always been extremely impressed with the friendliness of the members at West Hills. You need to be in another church for some time before you can truly recognize the difference between West Hills and other churches.
My favorites
SCRIPTURE: Jeremiah 29:11 SONG: I Can Only Imagine BOOK: The Bible MOVIE: To Kill a Mockingbird SNACK: anything chocolate!
Hobbies/passions
Hobbies: reading, working out, research, writing children's books for my grandchildren. Passions: Listening to Dr. David Jeremiah and other excellent leaders in the faith including the late Dr. R.C. Sproul.